Quality and Safety
The production of Me Luna menstrual cups take place in the Me Luna production facility and are subject to exacting quality assurance requirements. All processes take place under the one roof. After packaging, Me Luna cups are shipped directly to Distributors and customers worldwide.
What are Me Luna menstrual cups made from?
The Me Luna consists of medical compliant thermoplastic elastomers (TPE). To produce menstrual cups of the highest quality, we have selected a phthalate-, PVC-, silicone- and latex-free material, which has been approved especially for use in medical products and devices.
Me Luna menstrual cups are 100% made in Germany.
Me Luna has been registered with the US Food and Drug Administration since 2014. The distribution license within the USA as a Class II medical device has been granted. Me Luna menstrual cups also comply with the with the Australian Therapeutic Goods Administration – Therapeutic Goods Order No.99 – Standards for Menstrual Cups 2018.
Me Luna menstrual cups do not contain: bleach, fragrances, proteins, PVC, BPA, latex, silicone or alkylphenols. Me Luna menstrual cups are therefor suitable for women who are allergic to silicone.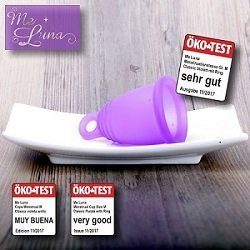 Awarded by Independent Consumer Organisation.
An independent laboratory testing institute 'ÖKO-TEST magazine' have confirmed the superior quality of Me Luna menstrual cups. In its 11/2017 issue, ÖKO-TEST magazine examined a range of menstrual cups and tampons.
In the tests commissioned by consumer magazine ÖKO-TEST, the Me Luna menstrual cup in size M, CLASSIC Purple with Ring achieved the overall rating of "very good", outperforming several other top menstrual cup brands.
What about dangerous plasticises?
We are often asked if Me Luna contains any dangerous plasticises. Understandably, as for many of you, the material that Me Luna menstrual cups are made from (THERMOPLASIC ELASTOMER), is a completely unknown material. However, the medical grade TPE used for our menstrual cups does NOT contain any of the plasticises (phthalates) classified as hazardous or toxic. In fact, the TPE used in our menstrual is even more hypoallergenic than silicone. (Less likely to cause an allergic reaction)
Is Me Luna vegan?
We are often asked if the Me Luna also contains animal raw materials. Of course, all Me Luna® Menstrual Cups are Vegan. Neither the raw material nor the colour additives contain animal ingredients.