All I need to know about Me Luna Menstrual Cups Australia
Why is Me Luna the best Menstrual Cup in Australia?
Me Luna is the best menstrual cup brand available in Australia as it offers the largest variety in menstrual cup sizes and softness options. Me Luna offers everything from the smallest menstrual cup suitable for teens to large menstrual cups for heavy flow and everything in between. Me Luna also has you covered if you are looking for menstrual cups for low cervix or if you have a prolapsed uterus.
Me Luna understands that every woman is different, and that it is a little more complex than choosing a menstrual cup based on the ow many vaginal births you have had in the past.
Which Me Luna Menstrual Cup size should I choose?
We have made choosing a menstrual cup easy with our convenient Me Luna menstrual cup size calculator.
If you are still unsure about which Me Luna menstrual cup size is right for you, feel free to contact our customer support team via email sales@mamasnaturalmagic.com.au.
Overview of Me Luna Menstrual Cup Sizes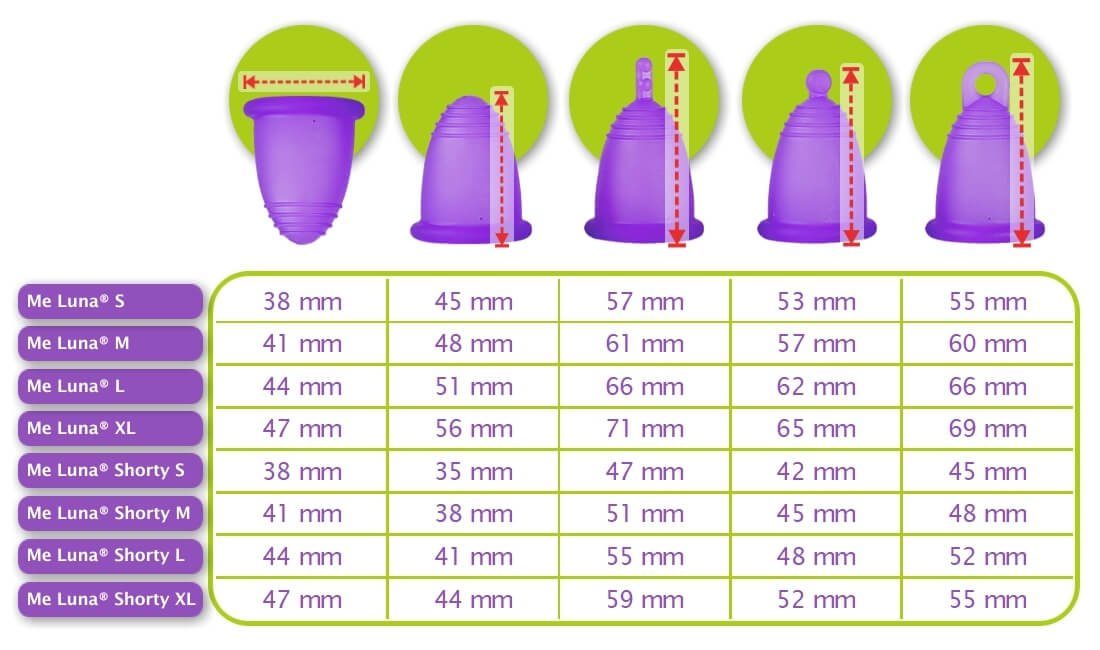 What is the Me Luna Menstrual Cup made from?
The Me Luna is made in Germany, from high quality medical grade thermoplastic elastomers (TPE). To produce menstrual cups of the highest quality, Me Luna has selected a phthalate, PVC, silicone and latex-free material, which has been approved especially for use in medical products and devices.
Me Luna menstrual cups do not contain bleach, fragrances, proteins, PVC, BPA, latex, silicone or alkylphenols. Me Luna menstrual cups are therefor suitable for women who are allergic to silicone.
Quality and Safety
When choosing a menstrual cup brand, it is important to ensure the quality of the period cups. There are now many menstrual cup brands on the market, however not all are made with such high quality and safety standards as the Me Luna. Not every menstrual cup brand has undergone rigorous testing, which means by using them, you may be putting your health at risk.
At Me Luna Australia we can ensure you that our Me Luna menstrual cups comply with Australian health and safety regulations. Our period cups are made under strict guidelines in Germany and have been FDA (US Food and Drug Administration) registered since 2004. If you wish to learn more please refer to quality and safety.