Best fundraising ideas for childcare and schools!!!
The Reusable Wet Bag Fundraiser
20% of each purchase goes back to your center
Perfect for kindergarten, child care, play groups and schools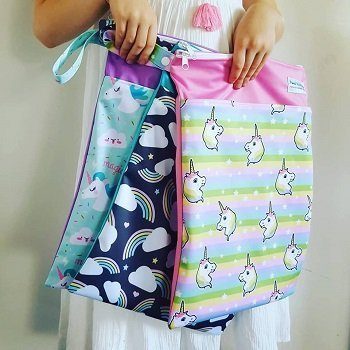 Reusable kids wet bags will save hundreds of plastic bags from landfill!
More and more child care organisations across Australia are encouraging their families to use reusable wet bags for their children's soiled and wet clothing. As a result many centers have even changed their policies and made reusable wet bags mandatory.
Plastic has become one of the most harmful materials to our environment, because it's pollutes our oceans while harming wildlife, and its filling up landfills faster than imaginable. For that reason it is a great idea to swap plastic bags to reusable kids wet bags. By doing so, child care organisations and families will make a huge positive impact on our planet!
The kids wet dry bag is a water-resistant bag, which is perfect to keep children's spare clothes in and to carry any wet and dirty clothes home again. The wet bag will help to keep their backpack nice and neat, while it keeps the backpack dry and clean.
Furthermore the wet dry bags are multinational. They are also great as a kids swim bag, nappy wet bag and in general extremely handy when travelling or out and about.
The kids wet bag comes highly recommended by teachers and carers across Australia as the reusable solution for wet and dirty clothes.
If your childcare center is using the wet bags already as a fundraiser idea, then choose your new reusable wet bag from our cute designs here. 20% of the purchase price goes directly to your organisation when you use the unique fundraiser code provided by your center!
If you are looking for easy fundraising ideas for childcare, pre-schools, etc, fill out the contact form and we will send you / your center our information pack. Alternatively, email us directly at sales@mamasnaturalmagic.com.au
Not sure about this kids fundraiser idea? No worries, we also offer discount prices for our reusable kids wet bags when ordering in bulk. Just contact us for a quote!